SISU Mouthguards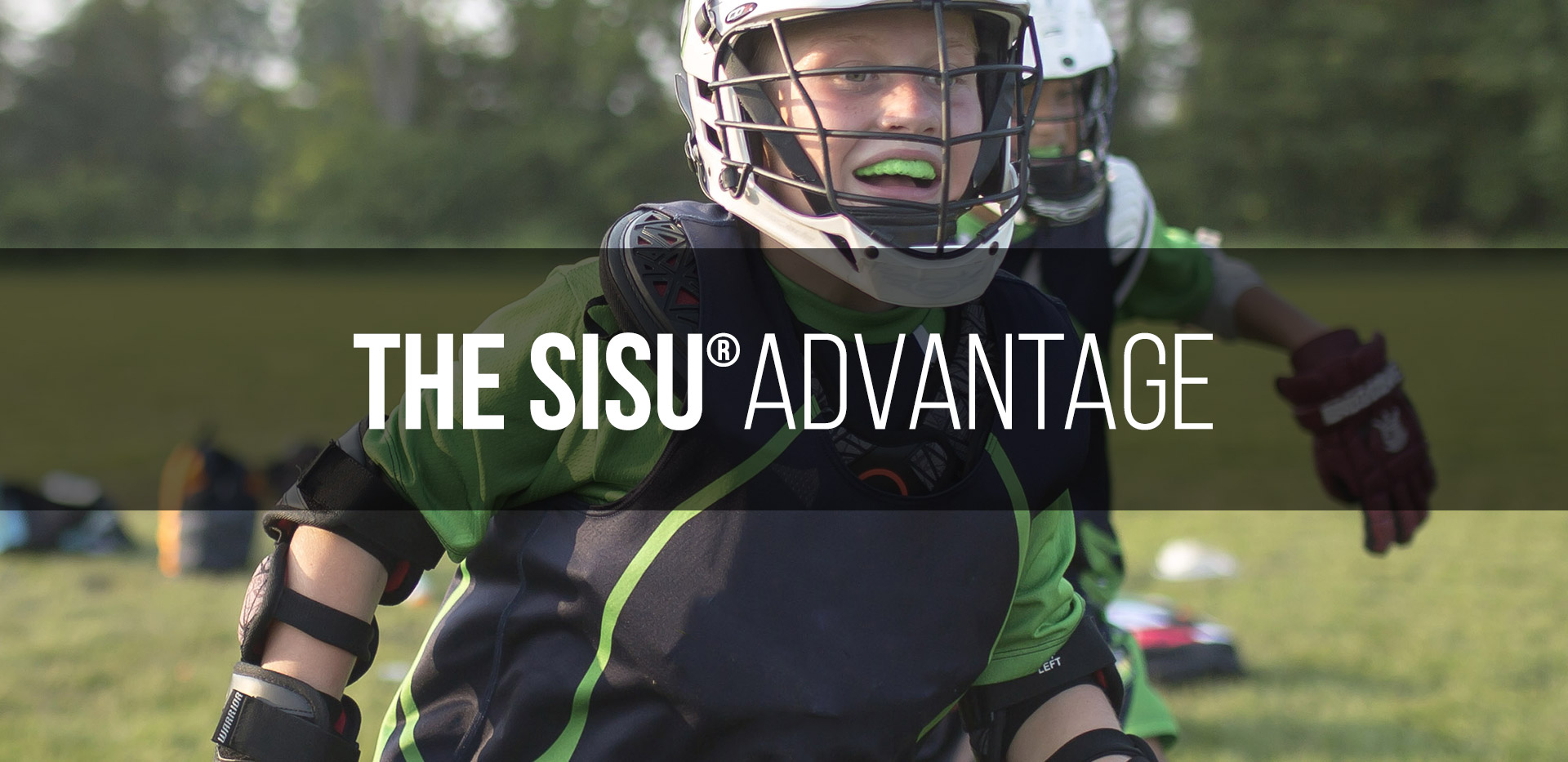 When stacked next to its competitors, every SISU® stands out in five key areas:
Strength

Using revolutionary Diffusix™ technology, SISU mouthguards are 8 times tougher and 30-50% stronger than conventional mouthguards. You'll be able to start each game with confidence knowing that no matter how hard you hit, your SISU is there to protect you.
Comfort

A mouthguard shouldn't be something you dread having to wear because it's uncomfortable. In contrast to the large, clunky guards you've come to expect, every SISU is a super-slim 1.6-2.4 mm thin. They're so small that you'll honestly forget you're even wearing a mouthguard!
Hygiene

SISU provides a comfortable custom fit that allows you to keep your guard in your mouth the entire game or practice. You don't need to constantly remove your guard to talk, breathe or drink. This means that fewer germs will be transferred from your dirty, sweaty hands to your SISU Guard.
Remoldability

SISU is the mouthguard that allows you to adjust over time, maintaining utmost comfort and protection. Beyond custom fitting, every SISU mouthguard can be remolded to ensure the best fit. Simply place your SISU Guard back in hot water, and it becomes soft and pliable, and ready to remold.
Freedom

Mouthguards shouldn't get in the way of your game, which is why every SISU is roughly half the thickness of conventional guards. When you wear a SISU, talking, breathing, and drinking are largely unobstructed, allowing you to keep your focus where it matters: on the next big play.
---
---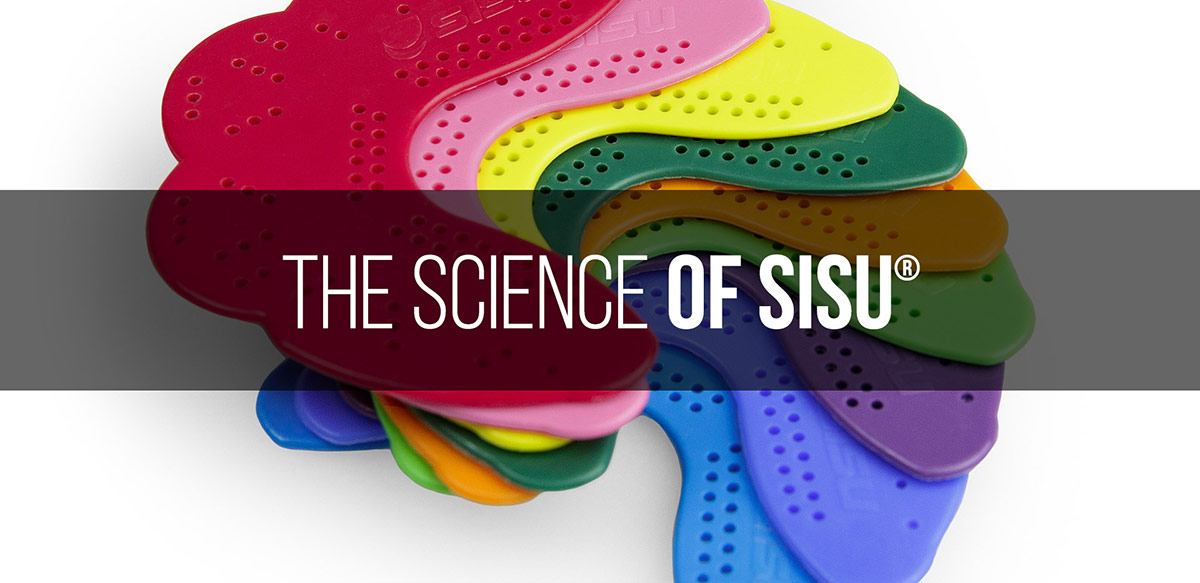 SISU is revolutionizing the mouthguard industry by consistently leading in research and development, inventing new energy dissipating concepts, using superior materials, and incorporating it all into elegant engineering
In our labs, we have put each mouthguard through strenuous testing to see how it performs in relation to its competitors. What we've found is that, when compared to a conventional mouthguard with greater thickness, both the SISU Aero and SISU Max absorb significantly greater impact forces, better protecting your teeth from damage.
SUPERIOR PROTECTION
Less transfer of impact forces to teeth means better protection against dental injury.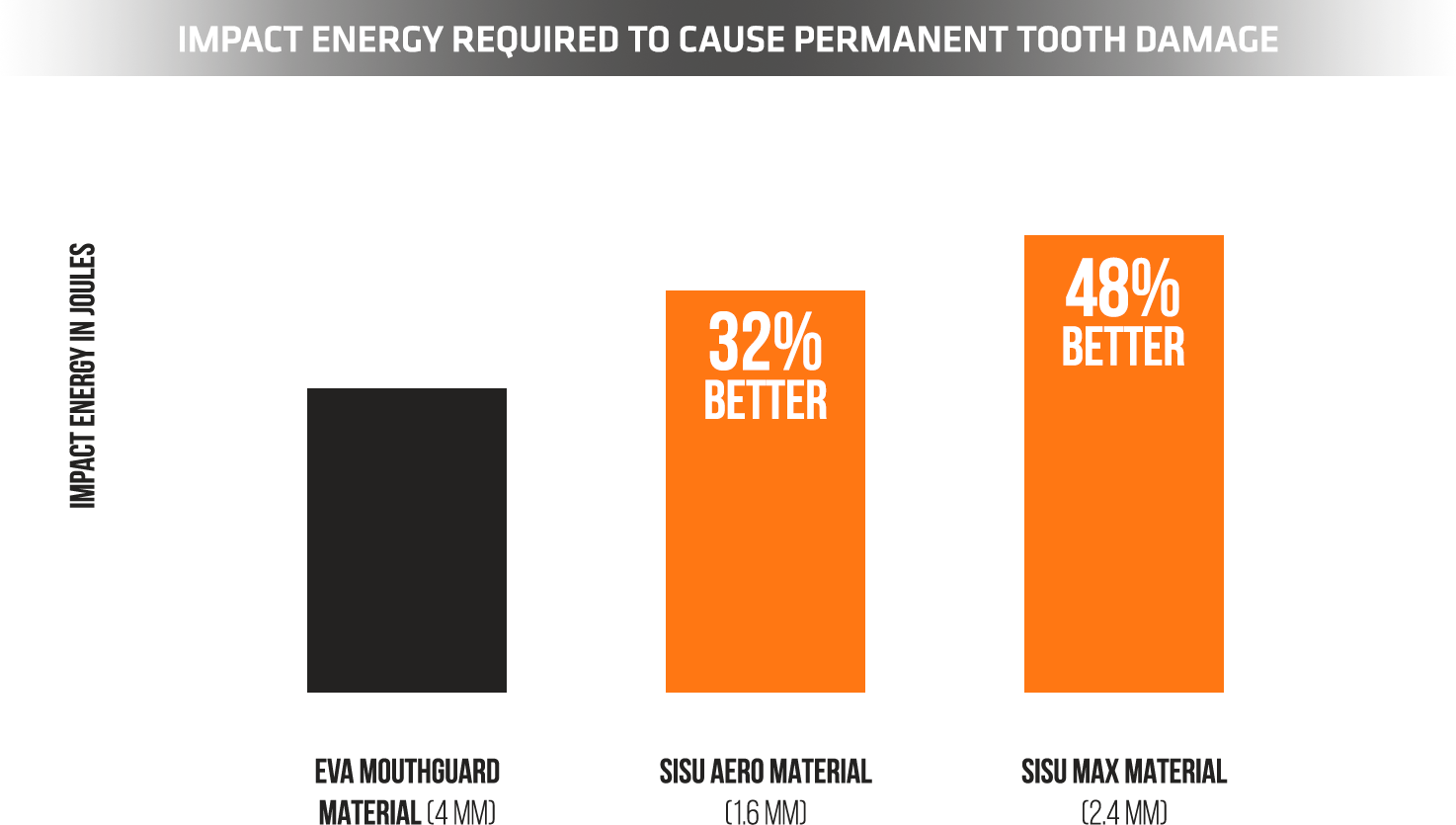 MINIMAL DEFORMATION
Storage modulus is a very important parameter for mouthguards because it is a measure of how much impact energy can be elastically stored in the material. The SISU material with a storage modulus of 450 MPa, has the capacity to dissipate 10 times more energy in the form of rebound energy than EVA, with a storage modulus of 40 MPa.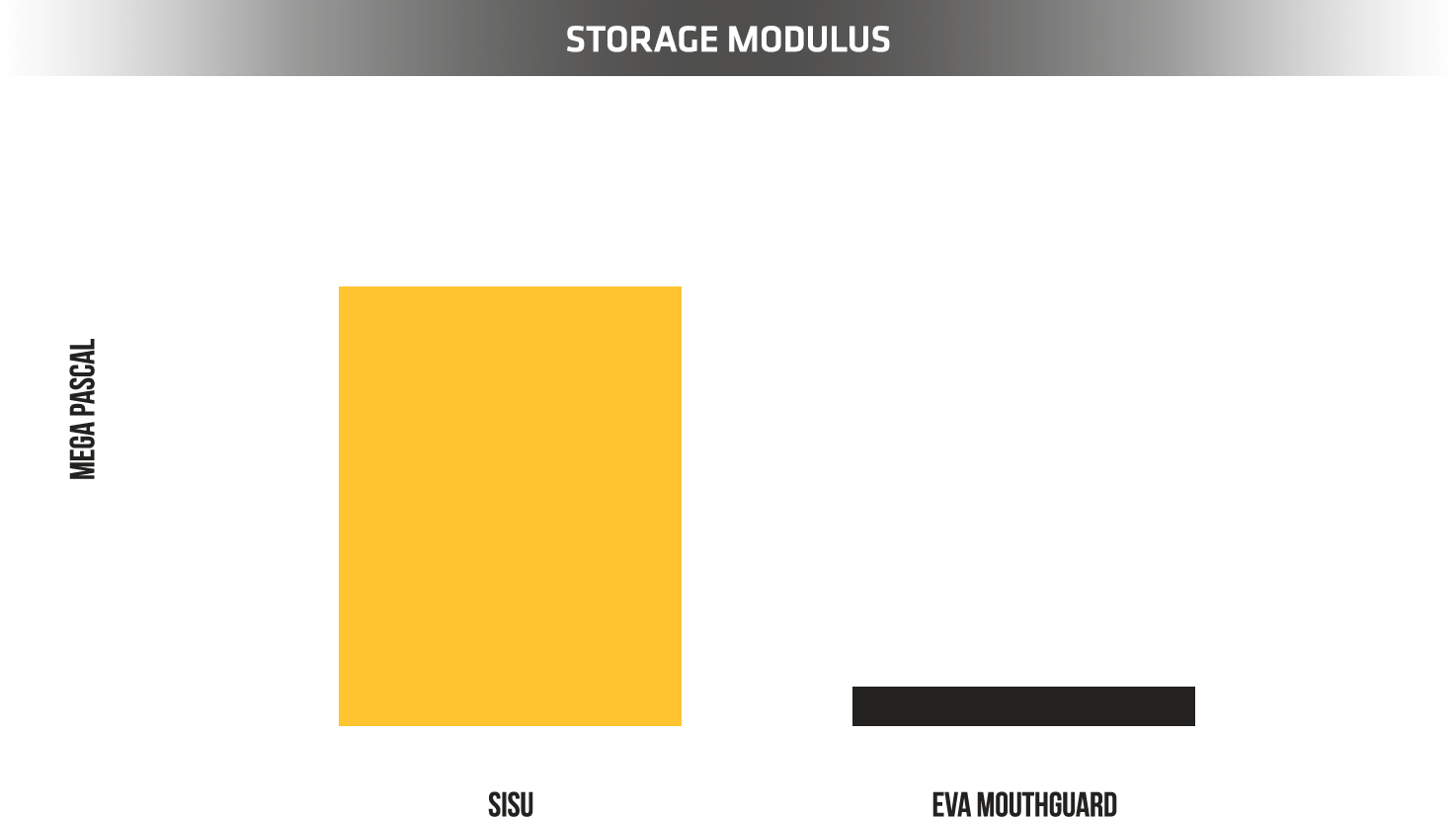 HIGHER TENSILE STRENGTH
Tensile strength describes the maximum stress the material can sustain before failure. The range of tensile strength of SISU material* is at least 30% higher when compared to EVA** which is used in most OTC mouthguards.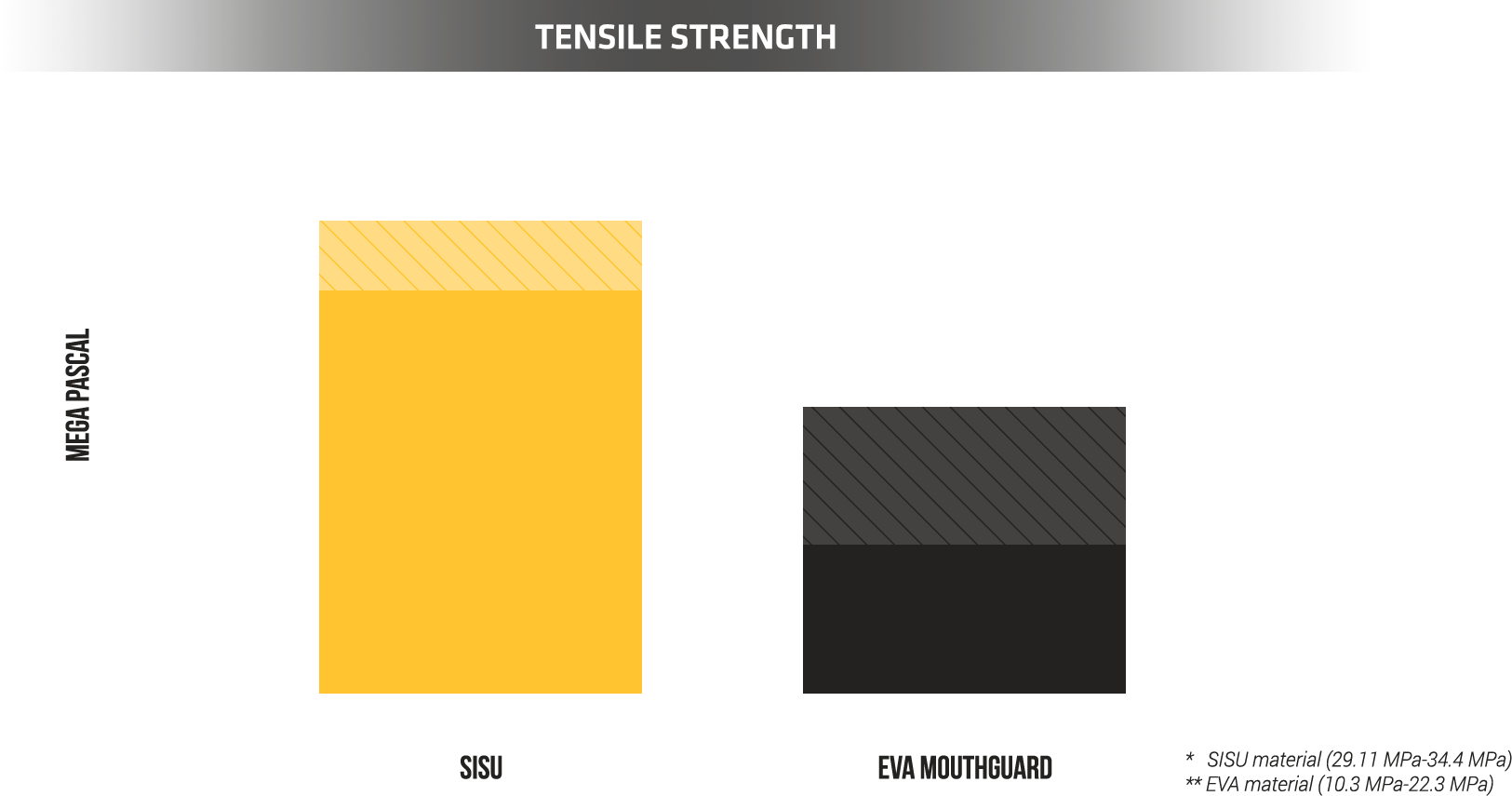 Diffusix™ Technology
SISU® is made from a non-compressible, perforated material and doesn't cave in under impact like conventional mouthguards. Using our one-of-a-kind Diffusix™ technology, the impact force is distributed over larger areas, which means less risk of dental injury during competition.
The breakthrough SISU technology has been recognized by the following awards: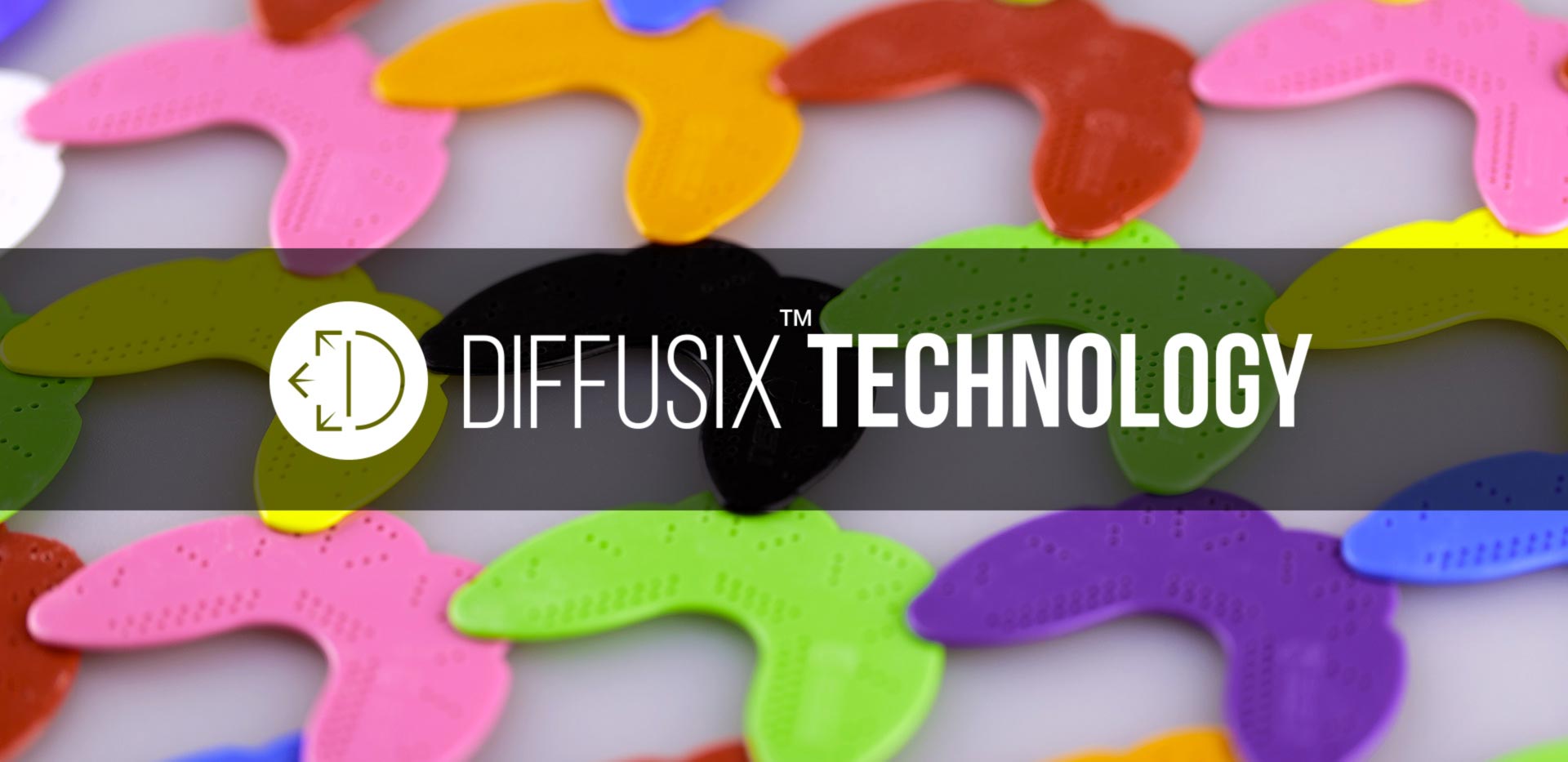 SISU® is made from a non-compressible, perforated material and doesn't cave in under impact like conventional mouthguards. Using our one-of-a-kind Diffusix™ technology, the impact force is distributed over larger areas, which means less risk of dental injury during competition.
"the perforations in the SISU mouthguard act similar to the trusses on a bridge, allowing the structure to flex when an impact occurs."
Johannes Schwank, Ph.D
Material Impact Dispersion
DIFFUSIX™ absorbs the diffuses impact throughout the entire mouthguard.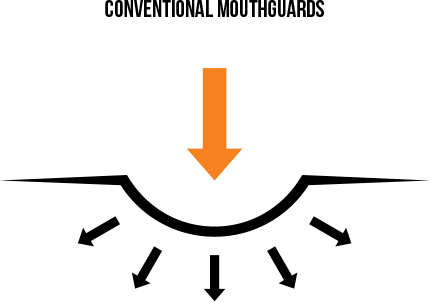 Conventional mouthguards are made from a material that's too soft to fully protect your teeth from harm.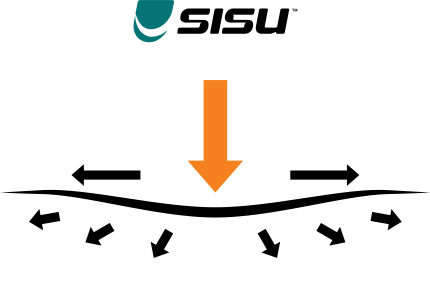 SISU guards are made from a material that absorbs and diffuses impact throughout the entire mouthguard, meaning that much less impact force is transferred your teeth.
Diffusix™ technology works with unique impact-absorbing perforations and special "crumple zones" which direct the impact forces away from your teeth. When a SISU mouthguard is properly fitted, these energy-absorbing zones direct forces away from your teeth, reducing the risk of dental injury.
Energy Absorbing Crumple Zones
Just like a bridge is built in compartments that can move slightly, the perforations in SISU mouth guards oscillate under impact and absorb impact forces. Energy is directed away from the teeth, and into the specially designed crumple zones.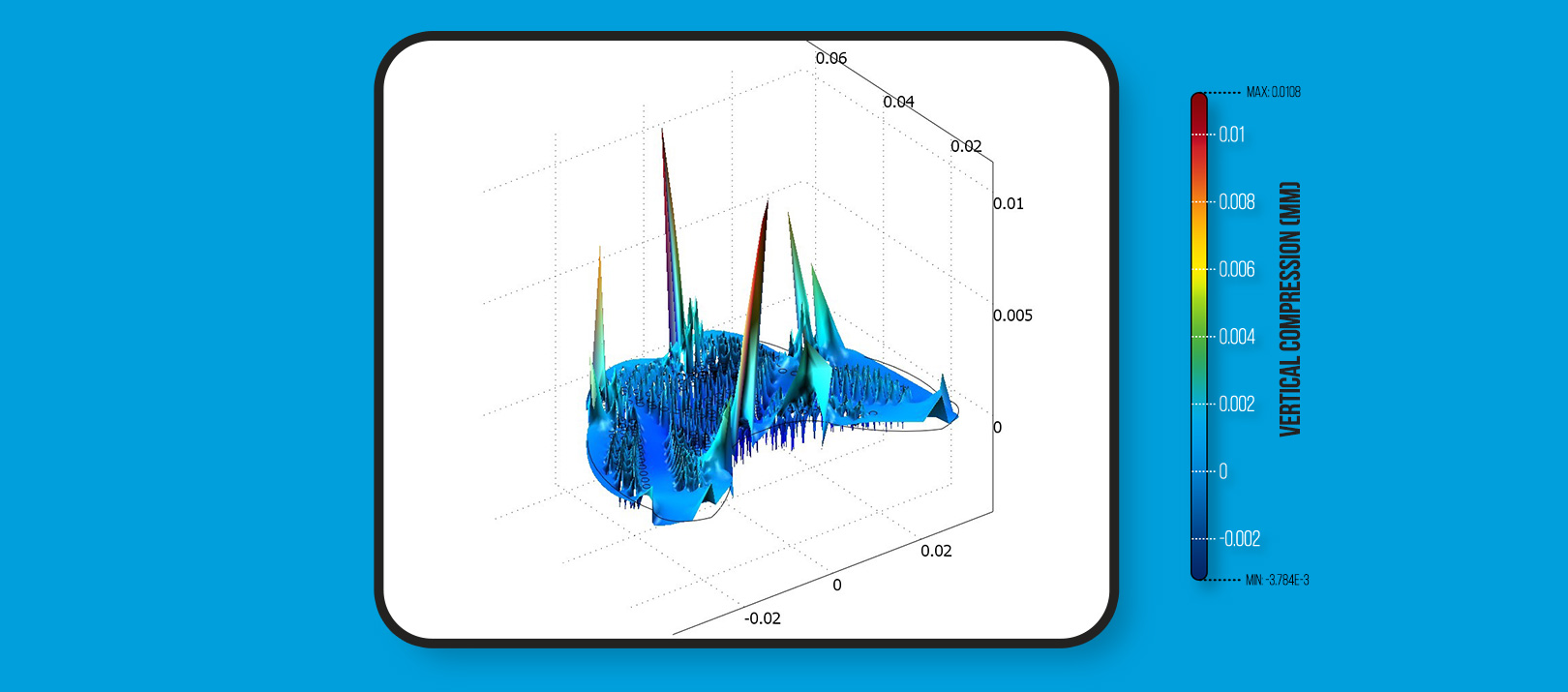 But why the perforations?
The perforations serve three important functions:
Custom fit
Vacuum-like suction allows you to create that custom fit so unique to your mouth, the guard stays snugly on your teeth during the entire game or practice.
Talk. Breathe. Drink.
Natural flow of air and saliva empowers you to talk naturally, breathe normally and stay hydrated during the game or practice.
Better Protection
Like the support systems on a suspension bridge, the perforations oscillate on impact and redirect the forces to scientifically engineered reinforced parts of the guard.
Which guard should I get: Aero, Max or Junior?
The choice of Aero vs Max is entirely up to you. Both guards will custom fit to your mouth, stay in the entire game, be comfortable and allow for natural flow of air and saliva, so you can talk, breathe and drink.
Max guards are 2.4 mm thin and provide 50% more protection and Aero Guards are 1.6 mm thin and provide 30% more protection.
Most of our customers in team sports wear an Aero Guard. The Max Guard is generally used in sports that either have a higher rate of direct facial contact (like boxing, MMA, BJJ, box lacrosse) or do not use helmets or face masks (Rugby, Quidditch, Field Hockey).
Our Junior Guard is the smaller version of Aero, designed for children between the ages of 6-11 years of age. If you have a smaller mouth but you are outside of this age group, you should still get an Aero guard. Please read our Q&A below to learn more fitting tips for smaller mouths and watch our fitting video to help you get the best fit.
How long will my SISU last?
Keeping it clean and letting it dry before storing will keep the germs at bay and extend the life of the guard. Your SISU guard is covered by a $35,000 dental warranty for up to 1 year after purchase.  We recommend you replace your sisu mouth guard once a season or at the very minimum at least once a year.
Can I wear a SISU guard with braces?
Absolutely! However, it is essential that you have your mouthguard professionally fitted by your orthodontist or dentist. Also, for your child, be sure to purchase an adult-sized guard as opposed to the SISU Junior: a larger guard is essential for protecting braces. Click here to learn all about fitting your SISU with braces.
What if I want to remold my SISU guard?
Your SISU guard is remoldable up to 20 times.  Just put your guard in hot water and watch it return to its original shape.
I have a really small mouth… should I trim the mouthguard before fitting it?
With SISU, every part of the guard is an important player when it comes to getting the most protection out of your mouthguard: the perforations, the crumple zones, the boomerang shape. Not only will trimming the guard void any available dental warranty, but your teeth will be at a lot more risk for injury.
But I still have a small mouth…should I purchase a SISU Junior instead?
Again, no. By the time you turn 11, your jaw has fully formed. You'll need all the material provided in any of our adult mouthguards to provide you with the best protection.
Do I need one top and one bottom or is just one SISU enough to protect my teeth?
You can certainly wear a SISU on your both top and bottom teeth, but most of our athletes prefer the comfort and strength that a single mouthguard provides. It's really a matter of preference.
Will the hardness of the mouthguard cause soft tissue bleeding if I take a blow to the face?
In order to best protect your teeth, we have done extensive research to make sure you are as safe as possible during game time. Every SISU is made of inherently hard material, so there's a small chance your gums will be adversely affected if you are punched directly in the mouth. However, soft tissue damage is often much less dangerous and costly than teeth injuries.
Does my SISU contain any harsh chemicals?
None whatsoever! All of our mouthguards are PVC, Latex, BPA and Phthalate free.
Do mouthguards protect against concussions?
It is a common misconception that mouth guards protect against concussions. That statement has no conclusive evidence exists that mouth guards can protect against concussions. What they can do, is protect against dental impact. Here, SISU Guards stand out in the following key areas:
– Less Impact Force Transfer
– Higher Force Absorption
– Less Deformation
– Higher tensile strength (toughness)
How do I clean and store my SISU?
Rinse your SISU thoroughly in lukewarm tap water and soap after each use. Alternatively, the mouthguard can be brushed with a regular toothbrush or non-abrasive, non-whitening toothpaste. Carefully rinse and dry before storing your SISU at room temperature, and consider purchasing a SISU Case to keep it safe and clean!
---
---